The Bhaktishop Yoga Center
Located in SE Portland, we offer healthy, safe, grounded yoga practices steeped in decades of ongoing study both in the yogic traditions and the modern bio-mechanics of anatomical awareness. Beginners are welcomed whole-heartedly, and we are also a place for serious, ongoing students to hone their skills and grow a deeper connection to themselves and their practice.
The awareness of form, depth and alignment of Hatha yoga as well as the roots of yoga taught with respect for the source traditions are present in all of our classes, and each of our teachers shares their love and dedication with experience, personal attention and enthusiasm every single day. Whether you know what you're doing, need a class to seriously decompress, wish to align with the aspects of yoga as an agent of social change, want to study philosophy or are coming to yoga for the first time, we have a class for you.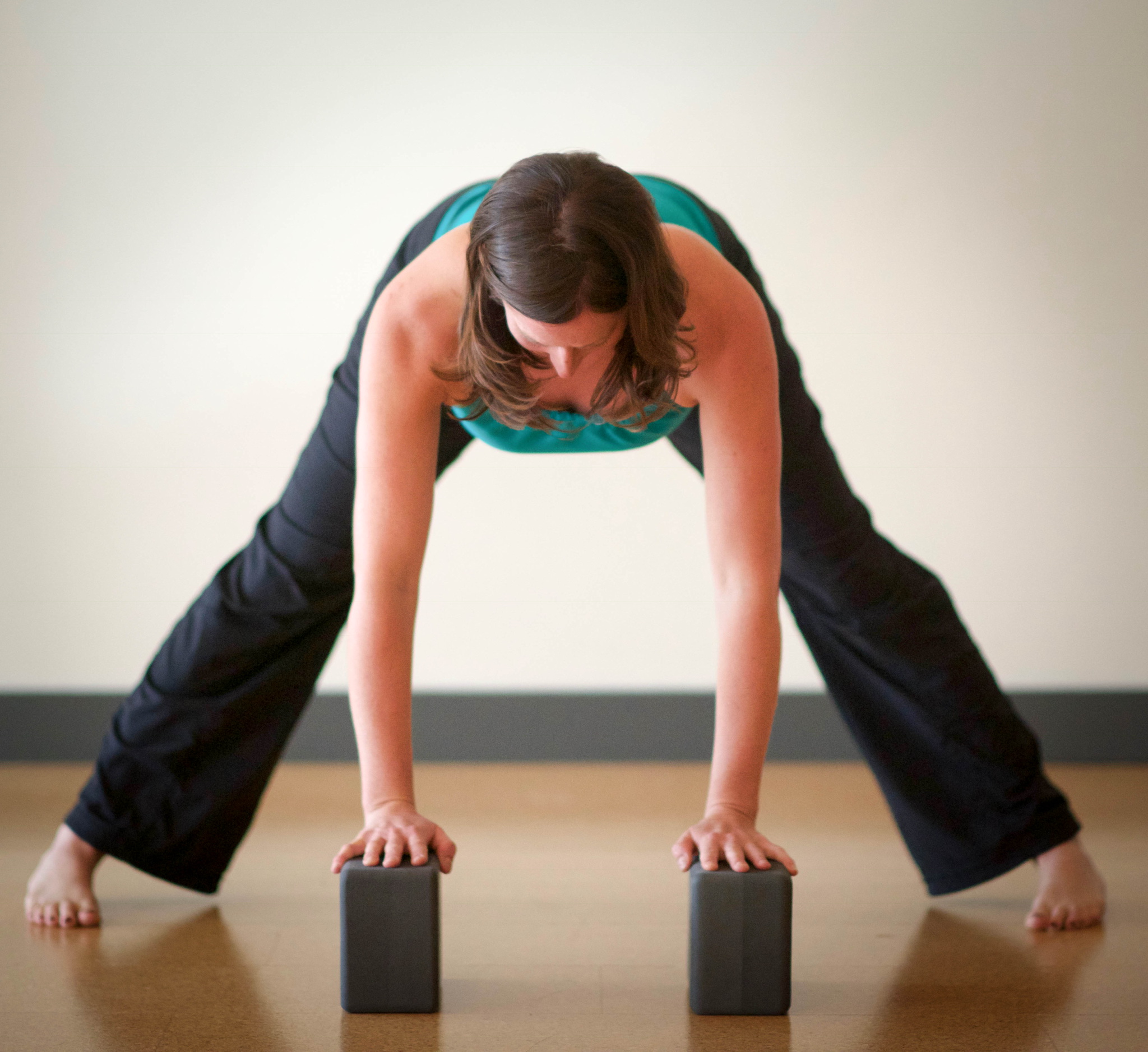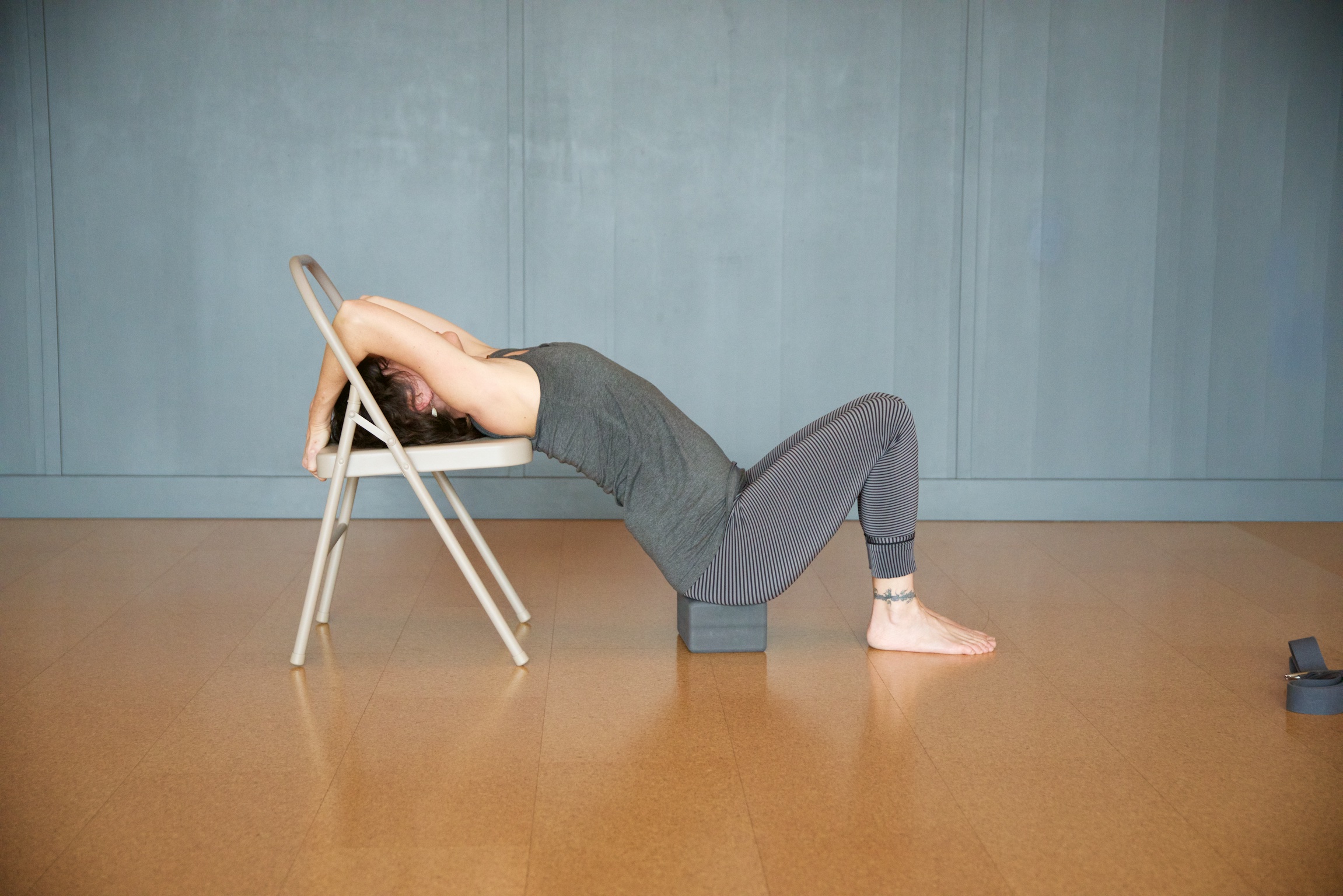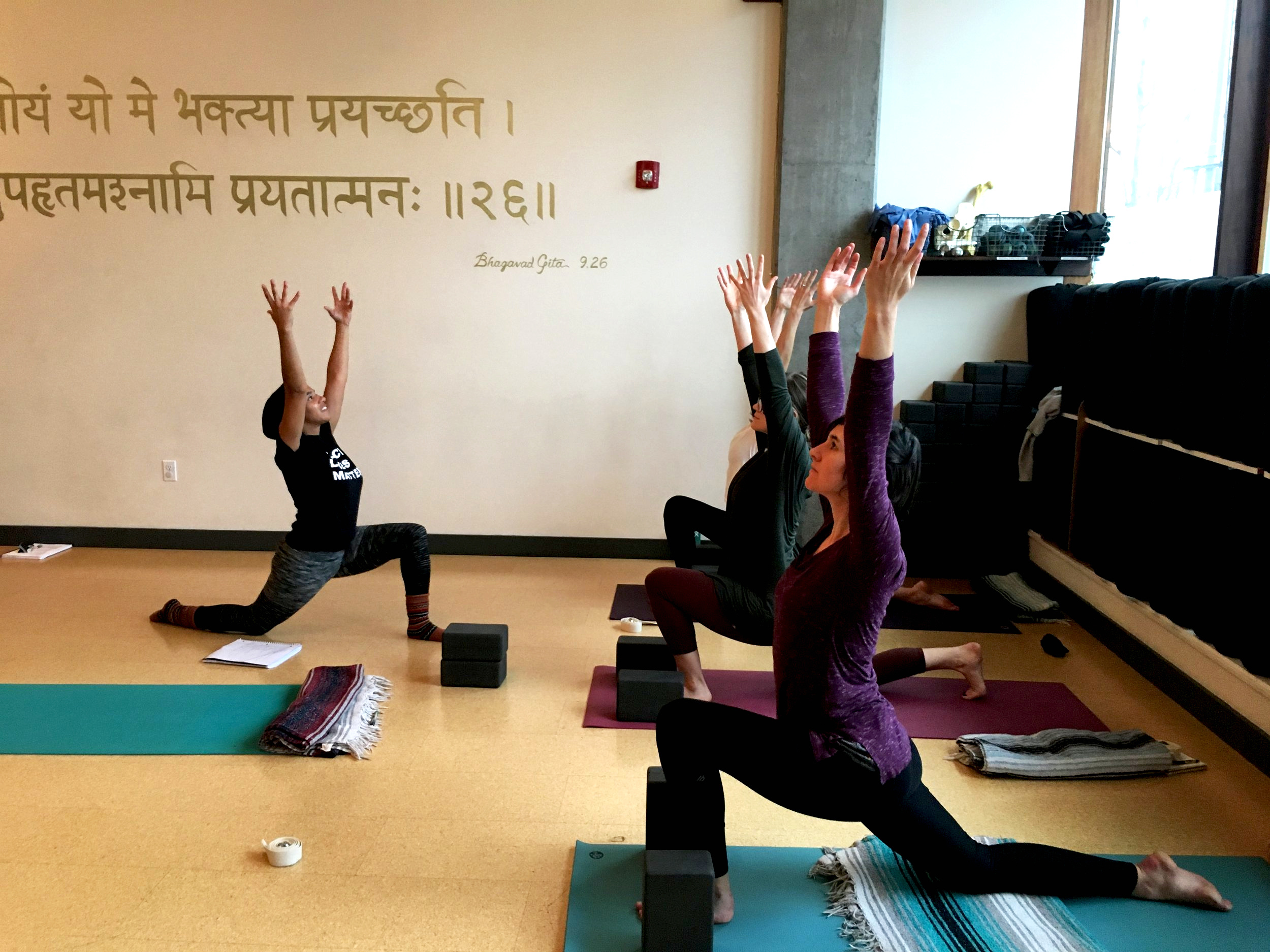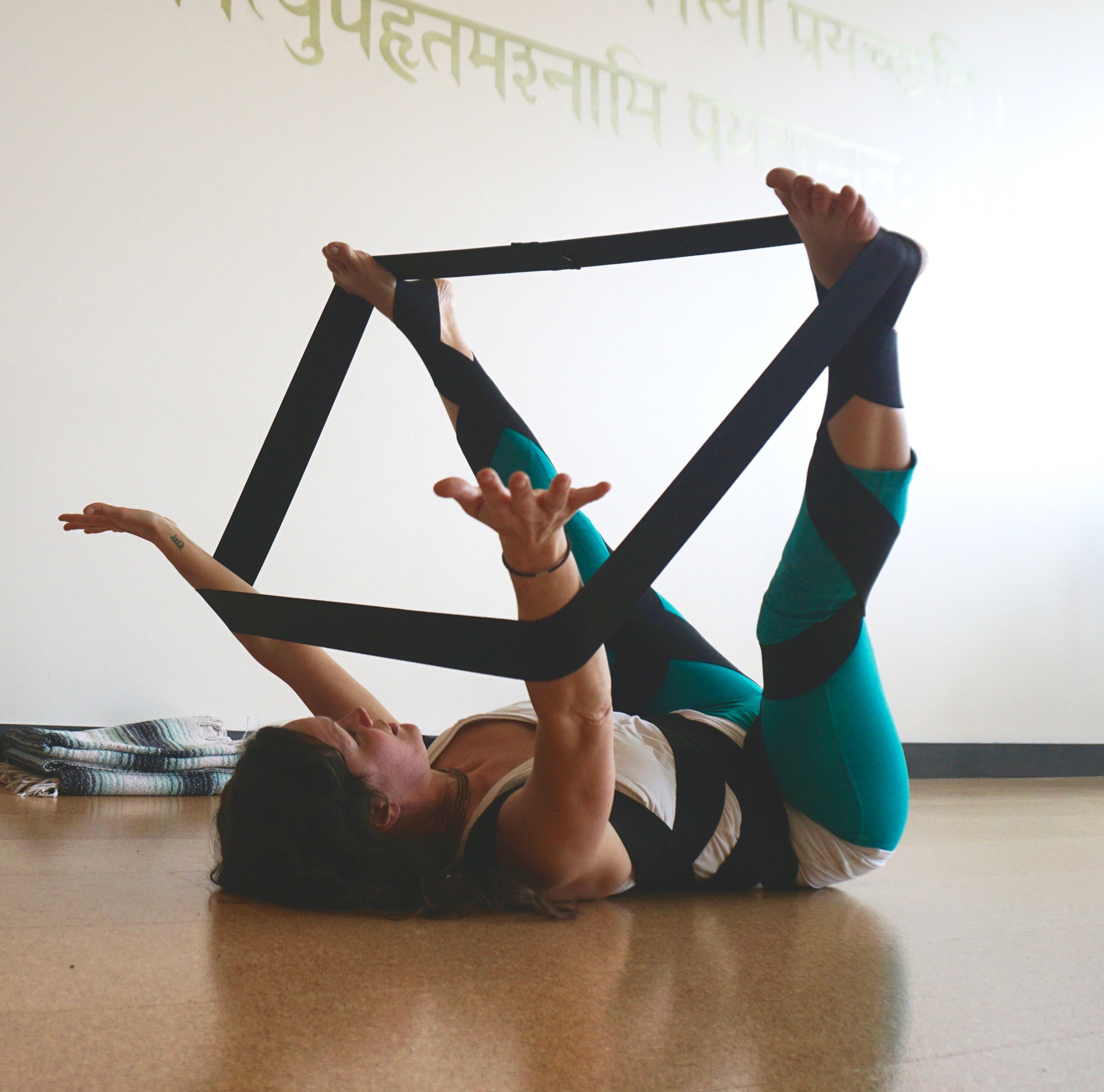 We offer dozens of weekly drop-in yoga asana (and more!) classes, taught in a well-aligned, joyful and connected way, from Yoga Foundations and Yoga 1/2 up to Advanced Level 3, as well as deeper forms of study in our Yoga School Programs and Functional Movement classes of all types. We offer workshops, retreats, Foundations and Advancedown training for teachers as well as a Prenatal teacher training programs to round out the menu and to situate us as one of Portland's most respected Yoga Schools. Our students range in age from late teens up to late 70's, all of whom have the great benefit of blending together and moving with intention. The multi-generational, multi-cultural and inclusive aspects of our community are beneficial to all of us, and give a rich texture of experience and enthusiasm to the foundation of our center.
Committed to intimate, equitable, honest inquiry and integrity, we are inspired every day by you and your needs. Deeply invested in shaping the conversation of yoga both inside the studio and in the wider community by educating both students and teachers with depth, we offer functional, intelligent instruction for thinking people that reaches well beyond the physical practice. We recognize that in the sometimes confusing and self-referential realm of modern yoga asana-only classes, this is uncommon. As a student, you are uncommon, too. Visit www.thebhaktishop.com for more details on all that we offer Southeast Portland and beyond.
Class Schedule
Most of my own classes last 75-90 minutes, and include many explorations of the yogic practice, including thoughtful, contemplative parts of the philosophy, progressive asana, opportunities for meditation, chanting, and pranayama practice. There is an opportunity in any class for deeper personal instruction— my massage, therapeutic movement and acupuncture background tend to lead me toward seeing bodies very clearly and helping to uplift, elevate and serve you as inspiration and felt-sense information for practice. I play ambient or music by South Asian artists in class a backdrop; a universal means of service to the movement itself. There is always exploration of mantra, philosophical ponderings, yama and niyama discussion, stories, guided meditation, breathwork, adventure, deep inquiry, and most importantly, listening.
Wednesday 12 noon
Level 3
Yoga 3 is a detail-oriented, sophisticated laboratory geared toward more experienced yoga practitioners, giving us the chance to hone our skills on the mat together. You are encouraged to deeply refine your inner and outer form, explore bold postures safely, focus more clearly on your own alignment and bio-mechanics, break some sticky old habits, explore the depths of some of yoga's philosophical topics, and delve more deeply into your self and your rich inner experience. These workshop-level classes are challenging, mechanically-inclined, anatomically precise, and living proof that you don't always need harder, faster asana to have a sophisticated, intelligent practice. Suited for those with very committed investment in understanding their own body, limitations and practices; this is the feeling person's answer to "advanced" asana classes.
Saturday 9am
Yoga 2
Beyond the basics, these classes always start with philosophy, application of yoga's tools to the cultural context in which we currently live. They introduce some more challenging aspects of practice, like moving in transitions with better alignment. I offer more continuing asana, sometimes new shapes, big ideas, and lots of freedom of expression. Often an interesting mix of both weird strength challenges and metronomic rhythms of flowing sequences, sometimes we work hard toward a peak pose, some days we zero in on a strength or functional movement technique, and other days we simply flow with the beauty of the breath. These classes are for stronger students, who can expect to work hard (and smart) in both cases. In terms of style, these classes tends to be heavier on the verbal instruction, inquiry and anatomical consciousness, and also are generally somewhat larger classes. For students that have a solid feel for the basics, don't mind a more crowded room, and want a slower tempo to build strength and grace even as they work hard and laugh a lot. There is an air of joy and celebration of the breath in the lively and welcoming atmosphere you have come to expect at The Bhaktishop.
Foundations and Advanced Yoga Study
Whether you want to fulfill a lifetime longing to teach or simply grow more relational with the roots of yoga and with your own practice, The Bhaktishop Yoga School is designed to enrich your practice and practical understanding of yoga. We've been registered with the Yoga Alliance since we opened in 2007 as a 200-Hour program, although we have always exceeded those standards and taught our entry-level students more than 300+ direct, in-person contact hours at the Foundational level. Our Teacher Training Program is a purposefully inclusive, deeply devotional, immersion-based curriculum taught by an experienced community of teachers and practitioners with thriving healing arts professions in other fields and living relationships to their teachers and the source traditions from which they emerge. It is the perfect place to begin your illuminating journey into teaching, to bring needed yoga as an agent of social change and healing into new communities, and to profoundly shift and grow your own personal practice, relationship to your self, and invitation into a vast, inner life.
Founder and Director Lisa Mae Osborn and co-director Monicka Koneski bring to life decades of experience in the practice and teachings of yoga and movement. Together we share a common belief in the transformative powers of discipline, study, and devotion, as well as the curative powers of love, community and laughter. After years of collaborating, we have developed a comprehensive learning and training program with a relevant, bhakti-based philosophy that reflects our own deep study and commitment to service and is rooted in the source tradition of Gaudiya Vedanta, and is also rooted in current, intelligent asana practice, masterful teaching methodology, racial equity, LGBTIQ and size-inclusion practices, and more.
Our amazing staff of experienced, high-integrity teachers and mentors— Jeannie Songer, Danielle Hanna, Kate Busby, Zeyah Roge, Britt Rhoden, Theresia Munywoki and Molly Boeder-Harris—are all experienced in fields of study outside of yoga, including mental health therapy, Acupuncture, trauma stewardship and Somatic Experiencing, and Ayurveda, all of which aid in our work within the deeply interactive fields of human connection. These integrative experiences helps us provide an intensive, loving, inclusive and safe environment in which to explore the difficult questions about yoga, to question the broader western yoga culture, and to bring the highest integrity possible to the process of learning about yoga. We will help you grow a deeper self-awareness, a reliable and personal self-practice, and pave the way for teaching yoga anywhere you choose with practical, useful tools and skills that can transform your life and the lives of others.
High-integrity teachers, deep skill, and a unique, varied curriculum
For six months and with over 300 hours of direct-contact, in-person Foundational study, you will explore different aspects of yoga, including Ayurveda, pranayama, meditation, Sanskrit and asana for your own personal sadhana (practice), as well as the devotional and mystical roots of these practices through the study of the sacred texts in philosophy that are rooted in source traditions. We will inform and share our findings with each other, reflect on our relationships to other bodies and spirits, as well as take in the classical and modern teachings in practical terms. We will discuss honest communication, equity/racial justice and inclusion, deconstruction of power-over modes of behavior in teaching and society, yoga as a radical practice in social justice movements, look into trauma sensitivity and ideas of cultural appropriation, and much, much more. Midway through the program, we sink deep into a retreat to the woods for three days of immersive study, as a treat and a revival of our spirits.
Once you complete our Yoga School Foundational-Level program, we offer a mentorship program to help bring to life your unique voice and divine manifestation of wisdom on this path. Or, you can continue your lifetime journey into yoga with our Advanced Study Program. Whatever you choose at the end, the committed and capable hands of this incredible staff of teachers all guide you through a beautiful, rich program in which we can all grow together.
Advanced Studies Program
Our Advanced Study Training program is a great place for you to continue onward, enrich yourself and grow your studentship even more from your already completed Foundations or Basics Training program. Or, if you are a committed student that doesn't teach, the perfect place to further your own practice and study. You do not have to be a teacher to benefit from the high-quality education offered here in these programs. Building a community of teachers that are mutually supportive of one another, maintaining high standards of continuing study, opening doors of creative possibility, and creating a web of interconnected teaching that crosses boundary and style, at The Bhaktishop we aim to support you and stay centered on what unites you in your continuing journey.
Progressive. Smart. Practical.
With curriculum designed by Lisa Mae, bringing more than two decades of teaching and practice to the table, we've curated a program that brings multiple disciplines, experts and traditional wisdom into the overall conversation about yoga and its evolution. Courses of study focusing on strong bio-mechanics and the varied language of asana cues, practical tools for sequencing and progressive class structure, intricate practices to see bodies more fully, depth of focus in the Ayurvedic tradition, deeper philosophical study and coursework in the bhakti tradition as well as much more form the basis for this modular program.
Featuring courses from other skilled teachers, such as a progressive Prenatal Teacher Training with Shana Celnicker-Chong, deep Ayurvedic wisdom workshops with C.A.P. Danielle Hanna, stellar applied Anatomy and Kinesthetic movement instruction from Monicka Koneski, expert restorative practices and psychological study with Jeannie Songer, Trauma-Informed Yoga Training with The Breathe Network's founder Molly Boeder-Harris, plus rich, potent offerings from our cast of visiting teachers including the acclaimed bio-mechanics researcher and stellar yoga teacher Jules Mitchell, practical asana and methodology training from teacher's teacher Christina Sell, profound adjustment and inner-body awareness training with Portland's own innovator and teacher's teacher Todd Jackson, satsang and philosophy talks with Swami B.V. Tripurari, new opportunities to dive into Sanskrit wisdom as a philosophical study with Shivani Hawkins of Living Sanskrit, mechanical and sustainable genius movement work with Cecily Milne of Yoga Detour, Brea Johnson of Heart and Bones Yoga and Trina Altman of Yoga Deconstructed, LGBTIQ Inclusion dynamics with Zeyah Roge, Anti-racism and Implicit bias trainings with local Racial Equity Trainer Kenya Budd and with Michelle Cassandra Johnson of Skill In Action, Fat-phobia dismantling and Size-Inclusion with Be Nourished and so much more, we aim to offer a place where talented teachers can dialogue with each other, share the seat of the teacher, and gain experience and mentorship opportunities that we might not get otherwise.
Curriculum as varied as your wide-ranging backgrounds.
Designed to be taken in portions of 50-75 hours at a time, with no set endpoint, it is intended for those already teaching or that have completed an approved Basic training or Foundations program, though it does not have to have been here at The Bhaktishop. You can apply to begin at anytime, as there is something being offered each and every season. Please see the requirements for the program at the bottom of the page in the "fine print" section. You may start the program at anytime, and if you have questions about how to get going, please email weloveyou@thebhaktishop.com.
If you are seeking an Advanced Study Certificate, please email for an application form and return it to us to get started.